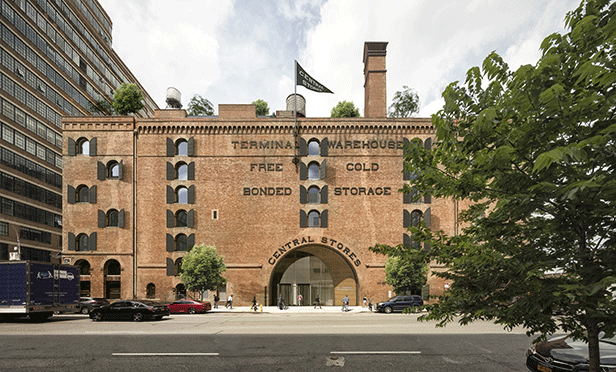 L&L Holding and Normandy Real Estate Partners have finalized their redevelopment plan for Terminal Warehouse, a 1.2-million-square-foot industrial property inhabiting a square block in West Chelsea.
The partnership will launch an extensive capital improvement program to preserve the 1891-built property stretching from 11th to 12th Avenues and W 27th to W 28th Streets.
The redevelopment will include the restoration of 3.2 acres of brick masonry, 1.4-million-feet of board wood, 756 windows, 338 twin iron shutters, metal signage, a chimney and flagpole.
The property, made of mostly of heavy timber and 478-year-old columns sourced from 350-year-old trees during the time of its construction, features grand arched entrances on 11th and 12th Avenues.
The heart of Terminal Warehouse is its 200-foot-wide, 670-foot-long train tunnel with twin rails, traversing through the center of the building. L&L Holding and Normandy will repurpose the tube for shops and restaurants, using the building's original wood, brick and exposed rail tracks, and create an outdoor courtyard featuring landscaped terraces for natural light, as well as double-height interior spaces.
The building's massive arched entrances will become recessed entries. Removed flooring from the property will relocate to the west portion of the building to align with the aesthetic of West Chelsea historic district and adhere to the building's current as-of-right zoning envelope.
Related Posts
Giralda Place is part of the larger Giralda Complex in Coral Gables…

Hollywood Park, the highly anticipated stadium and mixed-use project in Inglewood, has…