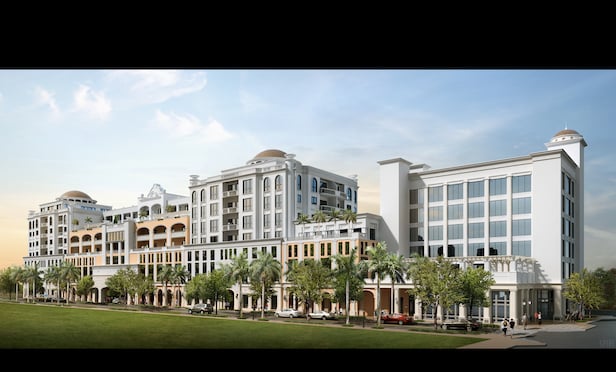 MIAMI—The ownership of the recently completed Giralda Place office building here has secured $37 million in financing for the more than 111,000-square-foot property.
CBRE SVPs Paul Ahmed and Amy Julian and senior financial analysts Andrew Chilgren and Mackenzie Fry arranged the financing on behalf of building owner HEC Finances LLC. Nationwide Mutual Insurance Co. provided the long-term, fixed rate loan.
The property located at Coral Gables' "Restaurant Row" totals 111,206 rentable square feet and sits on a full city block. The property features two Class A office towers totaling 92,222 square feet, 18,984 square feet of ground floor retail and an attached 338 space parking structure. Giralda Place is part of the larger Giralda Complex, which includes Giralda Residences, a 33-unit condo development, that was not part of the transaction, CBRE reports.
"Nationwide's ability to offer a 20-year loan term was very attractive to the sponsorship and their long-term view of the success and vibrancy of this property in this market," says Ahmed of CBRE Debt and Structured Finance.
Giralda Place is 94% leased to seven tenants and includes WeWork's first location in Coral Gables. Other tenants at the property include HSBC Bank, Dr. Smood, Rukus Cycling, and Seaside National Bank.
"Giralda Place is poised for continued success as the property's upscale retail and restaurants benefit from the highly walkable, A+ location," Julian of CBRE Debt and Structured Finance, adds.
Related Posts
L&L Holding and Normandy Real Estate Partners have finalized their redevelopment plan…

Hollywood Park, the highly anticipated stadium and mixed-use project in Inglewood, has…